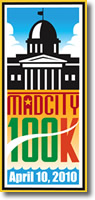 Race Director Tim "Timo" Yanacheck announces the date for the 4th Annual Mad City 100K to be Saturday April 10th, 2010 in Madison, Wisconsin. Mad City 100K will serve as USA Track & Field's 2010 national championship for the 100 kilometer road race distance. The race is open to all... to be eligible for prize money and national championship awards participants must be US citizens and registered with USA Track & Field.


Run concurrent with the 100K National Championship race will be two other Mad City events, open to all runners...


Mad City 50K... a 50K ultra spin following the same course as the 100K, but at 5 laps, just half the distance.


Mad City 50K Relay... comprised of teams made up of 2 to 5 members.